Going on Safari: Serengeti here we come!
We started the day near Lake Manyara (read about my arrival and first few days in Tanzania HERE) and drove about two hours to Ngorongoro Conservation Area, a UNESCO World Heritage Site.
A couple of things to understand (because I didn't). The Ngorongoro Conservation Area is the entire area which includes Ngorongoro Crater which I'll talk about in a minute. You'll pass through the Ngorongoro Conservation Area if you are driving to the Serengeti. Unlike a National Park (like the Serengeti), in Conservation Areas wildlife and the Maasai, live together. The Maasai have lived in The Ngorongoro Conservation Area for over 100 years. They aren't hunters – the Maasai are livestock farmers, mainly cows. In fact, the Maasai named Ngorongoro after the sound a cow bell makes "ngor ngor".
Ngorongoro Crater is a large volcanic caldera – the largest in the world! The crater, which formed when a large volcano exploded and collapsed on itself two to three million years ago, is 2,000 feet deep and its floor covers 100 square miles. I'll share more about The Ngorongoro Crater in a later post – we will actually descend into the crater later in our trip!
Our first stop in the Ngorongoro Conservation Area was the lookout. As we took in the view I was overcome with emotion.  The incredible beauty brought me to tears. The picture below doesn't do it justice. It was a little overcast this morning which wasn't as evident to the naked eye.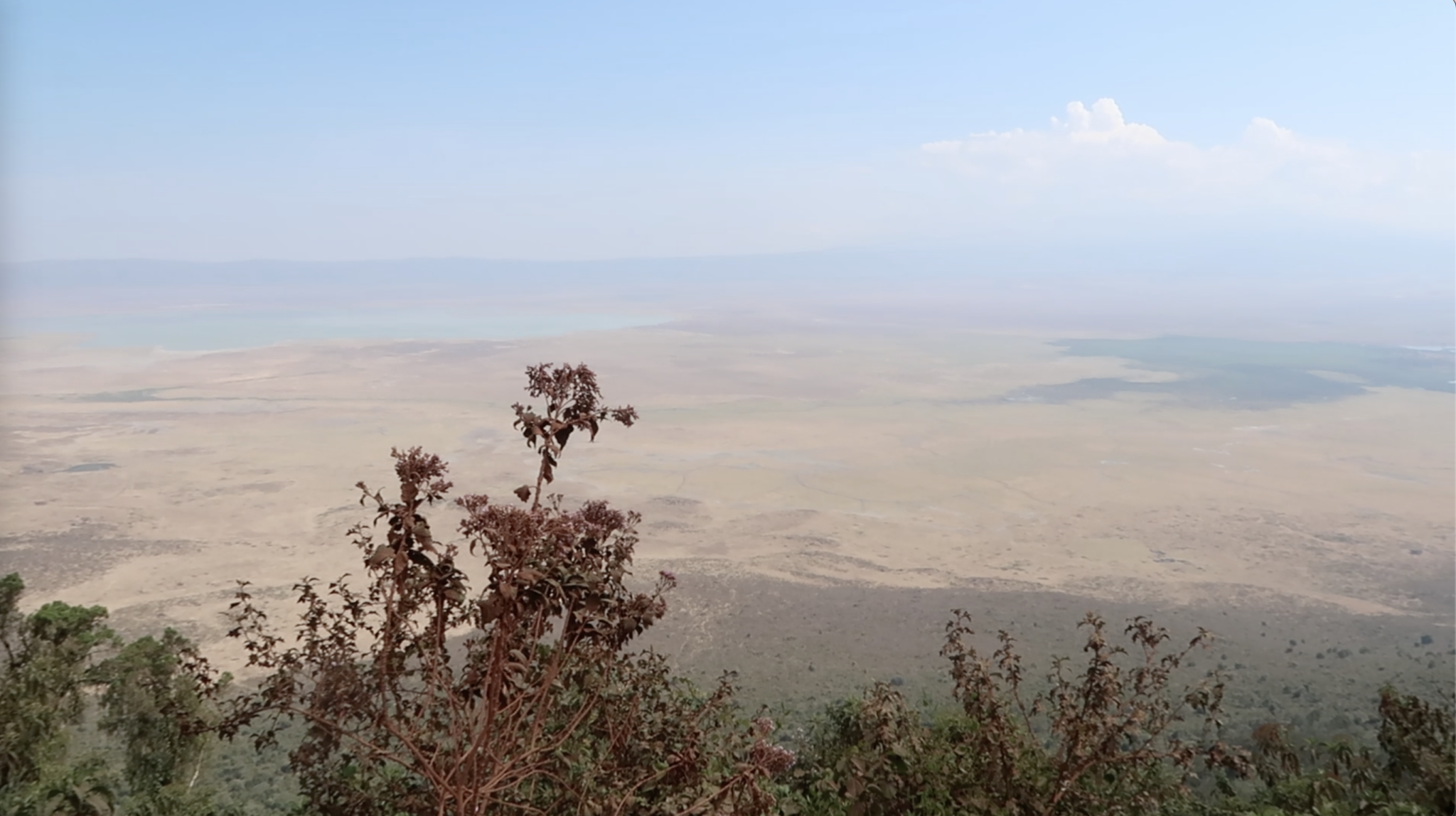 We headed closer to the Serengeti and stopped at Olduvai Gorge – The Cradle of Humankind
I was once again crying at what I saw. To see what I learned in school so many years ago and the profound piece of our history and creation was very emotional. This is where humankind began! 
We had a picnic lunch overlooking Olduvai Gorge. I loved this lunch. The food was excellent, the views were incredible and the company was fantastic! 


Then we headed on to the Serengeti!  We saw so many animals up close and personal. The first animal we saw upon officially entering the Serengeti was the Thompson Gazelles. It was so exciting we stopped for a picture. Little did we know that over the next week, we'd see no less than 2,000 of them! 
b4a4c4e2-fd7c-4b2a-9bb5-e04fbaec948e
It had rained on that day Serengeti, and we came across a truck that was stuck in the mud. Our guide Elisha being the helpful person that he is, tried to help. We backed up in front of the truck and they attached a chain to our Land Cruiser. Sadly we didn't get very far as the chain snapped, but Elisha said he once pulled a bus out of the mud. 
We had a long way to go on this day and covered a lot of ground across the Serengeti. I was struck by the beauty of the landscape and how rapidly it would change. It was dry season so I wasn't expecting much greenery or thick brush, but it was there. 
On our drive, we saw wildebeests and zebras (more animals we would literally see thousands of over the next several days!), giraffes and even a little turtle on the road!
After a very fun, bumpy, and muddy drive arrived at our tented camp for the evening which was beautiful! Ikoma Hills is located just outside of the Serengeti in the Grumeti Wildlife Management Area. Perched on a hill this luxury tented camp provided us with outstanding views and very comfortable accommodations. You can watch a room tour HERE.
Ikoma Hills offers night safaris in specially equipped battery-powered safari jeeps. This gave us an opportunity to see animals a little more active and close up.
The vehicles didn't have doors and were a little too 'open air' for my comfort. We saw quite a few lions including this guy who I will never forget. Shortly after this picture he stood up and got just a few feet from us. 
My safari mate Vlado took this picture. You can just make out the fact that he is missing one paw. He likely lost it in some sort of fight. Our guide told us a beautiful story about it though. Since he's injured, his pride will hunt and leave a portion for him since he can't hunt for himself, so he won't go hungry. 
We covered a lot of ground on this day. More than you would on a typical safari. I went to bed this night exhausted from the day but also exhilarated by what I'd seen. 
We once again heard the flapping of the tent for most of the night. We were old pros now and that didn't concern us that much. What did was the lions roaring not too far away from us.
As I mentioned before, the Maasai have lived in this area for over a hundred years. They are well-versed in the behavior of all of the animals who live here. Maasai Warriors were guards at every resort that we stayed at. Once the sun goes down they escort you around the property and even stand guard all night watching for those lions. We never saw or heard those lions again. 
All of the details of my trip are saved as highlights on my Instagram.
If you would like more information on going on safari, click here to get started! 
About Post Author
https://www.wishesandwaves.com/wp-content/uploads/2023/10/Screenshot-2023-10-27-at-6.13.43 PM.png
1530
2730
Cheri
https://www.wishesandwaves.com/wp-content/uploads/2019/11/ww-temp-logo-300x60.png
Cheri
2023-10-29 12:18:52
2023-10-31 17:14:56
Going on Safari: Serengeti here we come!